AP PHOTO/J. SCOTT APPLEWHITE
Trump impeached for historic second time after Capitol insurrection; Enduring another impeachment, Trump stands largely silent and alone
Of the 45 presidencies in America's nearly 245-year history, only Andrew Johnson and Bill Clinton suffered impeachment, as had Donald Trump, once each.
Trump was impeached by the U.S. House for a historic second time, charged with "incitement of insurrection" over the deadly mob siege of the U.S. Capitol in a swift and stunning collapse of his final days in office, Lisa Mascaro, Mary Clare Jalonick, Jonathan Lemire and Alan Fram report.
Lawmakers, moving at lightning speed, voted just one week after violent pro-Trump loyalists stormed the Capitol, egged on by the president's calls for them to "fight like hell" against the election results.
The Capitol insurrection stunned and angered lawmakers, who were sent scrambling for safety as the mob descended, and it revealed the fragility of the nation's history of peaceful transfers of power.
The riot also forced a reckoning among some Republicans, who have stood by Trump throughout his presidency and largely allowed him to spread false attacks on the integrity of the 2020 election.
House Speaker Nancy Pelosi invoked Abraham Lincoln and the Bible, imploring lawmakers to uphold their oath to defend the Constitution from all enemies, foreign "and domestic." She said of Trump: "He must go, he is a clear and present danger to the nation that we all love."
VIDEO: Pelosi signs second Trump impeachment.
GOP Support: Ten Republican House members — including the No. 3 House Republican leader Liz Cheney— supported efforts to impeach Trump. The GOP backing was in sharp contrast to the unanimous support for Trump among House Republicans when he was impeached by Democrats in December 2019, Matthew Daly reports.
Senate Majority Leader Mitch McConnell hasn't ruled out that he might vote to convict Trump. Though he blocked a quick Senate trial, he's told colleagues he's not made up his mind about how he'll vote when that trial begins. McConnell is Washington's most influential Republican. The trial probably won't begin until around Jan. 20, when Democrats will take majority control of the chamber and President-elect Joe Biden will be inaugurated.
Trump Alone: His place in the history books has been rewritten — and not how he would have wanted. As the House voted to impeach him, Trump faced his unprecedented second impeachment largely alone and silent. For more than four years, he has dominated the national discourse like no one else. Yet when his legacy was set in stone with the House vote, he was left on the sidelines. He kept out of sight in a nearly empty White House as impeachment proceedings played out at the heavily fortified U.S. Capitol. The suspension of his Twitter account deprived Trump of his most potent means to keep Republicans in line. Jonathan Lemire, Jill Colvin and Zeke Miller report.
AP FACT CHECK: Trump's call to action distorted in debate.
EXPLAINER: What's next after House impeachment vote.
EXPLAINER: Barring Trump from holding office again.
Transcript of Trump's speech at rally before US Capitol riot. 
The Scene: The Capitol was transformed into a fortress of impeachment. Where visitors once walked, hundreds of National Guard members were camped out throughout, even in the Rotunda, protecting lawmakers still reeling from last week's violence and preparing for Joe Biden's inauguration. Along with the signs of fear, there were also signs of gratitude for those protecting the area. A tunnel leading to House office buildings has become a makeshift tribute to members of law enforcement who protected the Capitol during last week's rioting, Kevin Freking and Andrew Taylor report.
Tarnished By Trump: British Prime Minister Boris Johnson has said a lot of flattering things about U.S. President Donald Trump over the years, trying to curry favor. He has professed his admiration and even suggested that Trump might be worthy of the Nobel Peace Prize. But after a mob of Trump supporters invaded the U.S. Capitol, Johnson sharply changed his tune, saying Trump had encouraged the violence and was "completely wrong." It was a dramatic pivot for a populist leader who has often been compared to Trump and refrained for years from openly criticizing him. Johnson's critics say his years of genuflecting to Trump have harmed Britain's international authority and poisoned its political culture, Jill Lawless reports.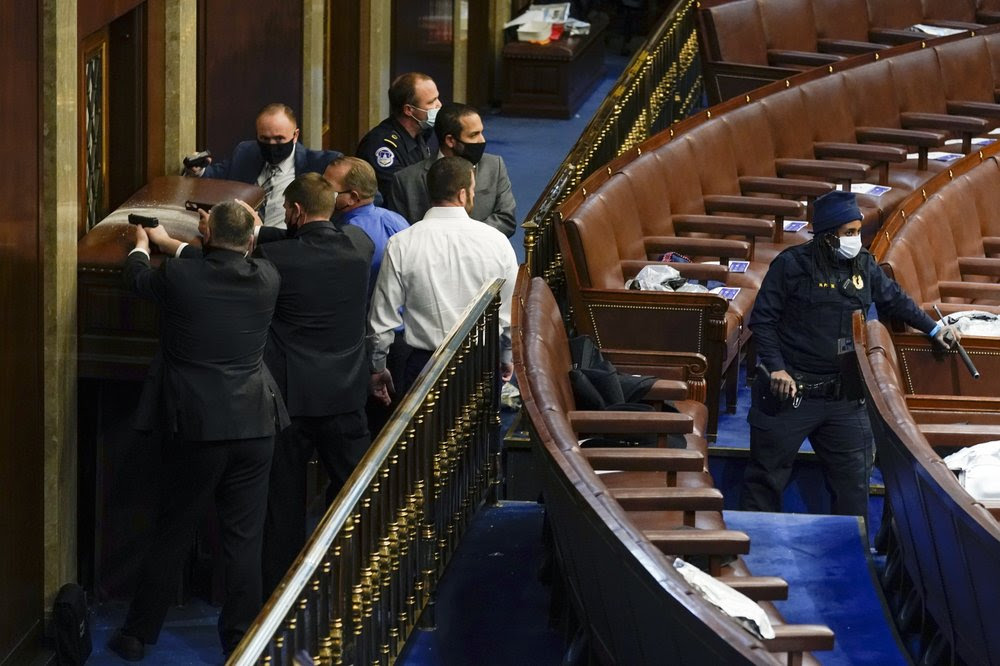 US Capitol investigators try to sort real intelligence tips from noise; Expecting trouble, Washington locks down a week before inauguration 
In the wake of the insurrection at the U.S. Capitol, potential threats and leads are pouring in to law enforcement agencies nationwide.
The challenge now is working out what's real and what's just noise, Stefanie Dazio and Michael Balsamo report.
Investigators are combing through a mountain of online posts, street surveillance and other intelligence. The information suggests mobs could try to storm the Capitol again and includes threats to kill some members of Congress.
Security is being tightened from coast to coast. Thousands of National Guard troops are guarding the Capitol ahead of President-elect Joe Biden's inauguration on Jan. 20. Governors and lawmakers are stepping up protections at statehouses too.
Nation's Capital Lockdown: All across downtown Washington, D.C., the primary sound is the beeping of forklifts unloading more fencing. The FBI has warned that armed protests by violent Trump supporters are being planned in all 50 state capitals and in the nation's capital for the days leading up to Joe Biden's inauguration on Jan. 20. Between the pandemic and the security threat, the D.C. mayor is flat-out asking people not to come for the inauguration. The most visible security is represented by 15,000 National Guardsmen from multiple states. Ashraf Khalil and Lolita C. Baldor report.
VIDEO: Armed National Guard arrive at the Capitol. 
Biden will no longer take an Amtrak train to Washington for his inauguration because of security concerns.
WHO team arrives in China's Wuhan to investigate pandemic origins; US virus deaths hit one-day high; UK also sees record deaths; Lebanon, France curfews
A global team of researchers has arrived in the Chinese city of Wuhan where the coronavirus pandemic was first detected to investigate its origins amid uncertainty about whether Beijing might try to prevent embarrassing discoveries.
The 10-member team sent to Wuhan by the World Health Organization was approved by President Xi Jinping's government after months of diplomatic wrangling that prompted an unusual public complaint from WHO's chief, Sam McNeil in Wuhan and Huizhong Wu report.
VIDEO: WHO team lands in Wuhan in hunt for virus origins.
Scientists suspect the virus that has killed 1.9 million people since late 2019 jumped to humans from bats or other animals. Beijing, stung by accusations it allowed the disease to spread, counter that the virus came from abroad, but foreign scientists say that is unlikely.
U.S. Deaths: Coronavirus deaths in the U.S. hit another one-day record at over 4,300 with the country's attention focused largely on the fallout from the deadly insurrection at the Capitol. The nation's overall death toll from has eclipsed 380,000. Staggeringly, it is closing in rapidly on the number of Americans killed in World War II. Amid a pandemic, the country is also on edge over threats of more violence from far-right extremists who believe, wrongly, that the U.S. presidential election was stolen. State leaders around the U.S. are increasingly pushing for schools to reopen this winter as teachers begin to gain access to coronavirus vaccines, Lindsay Whitehurst Terry Tang and Allen G. Breed report.
Biden Plan: President-elect Joe Biden's coronavirus action plan centers on a mass vaccination campaign and closer coordination among all levels of government. Biden hopes his multidimensional strategy will put the U.S. on the path to recovery by the end of his administration's first 100 days. In a speech this evening, Biden will ask Americans to wear masks, practice social distancing and avoid indoor gatherings, Ricardo Alonso-Zaldivar and Bill Barrow report.
U.K Crisis: In Britain, 1,564 more COVID-19 patients died, the highest figure for a single day since the pandemic began.  Britain already had Europe's highest virus death toll. The government has vowed that its vaccine program will operate around the clock seven days a week "as soon as we can," as the U.K. accelerates efforts to inoculate millions of its most vulnerable people, Danica Kirka reports.
The push to inoculate millions comes as a more contagious variant of COVID-19 is sweeping across Britain, a surge that is threatening to overwhelm hospitals. England is investigating whether some hospital patients could be moved into hotel rooms to free space for more seriously ill patients.
Lebanon Curfew: Authorities have begun enforcing an 11-day nationwide shutdown and round the clock curfew, hoping to limit the spread of infections amid a dramatic surge after the holiday period. For the first time, residents starting today were required to request a one-hour permit to be allowed to leave the house for "emergencies," including going to the bakery, pharmacist, doctor, hospital or airport. Authorities took a tougher approach after the country's hospitals ran out of capacity and beds with daily infections reaching an all-time high of nearly 5, 500 cases last week, Zeina Karam reports from Beirut.
France's Creeping Curfews: Trying to fend off the need for a third nationwide lockdown that would further dent Europe's second-largest economy and endanger more jobs, France is instead opting for creeping curfews. Big chunks of eastern France are under restrictions that prohibit people from being away from home without a valid reason from 6 p.m. to 6 a.m. And the rest of France could quickly follow suit, losing two extra hours of liberty that have been just enough for residents to maintain a bare-bones social life. Overnight curfews to cut the spread of the virus also have become the norm in other parts of Europe, John Leicester and Sylvie Corbet report.
What should I know about COVID-19 vaccines if I'm pregnant? The AP is answering Viral Questions in this series. 
The Arab Spring: 10 Years On
Tunisia today marks 10 years since protesters overthrew autocratic former President Zine El Abidine Ben Ali.
The revolution inspired and unleashed uprisings across the region known as the Arab Spring. In a grim cavalcade of wars, massacres, destruction, displacement, oppression and persecution, in Libya, Syria, Yemen and Egypt, the region became traumatized and exhausted by its most destructive decade of the modern era.
Tunisia was the one nation that rebelled and found a democratic footing.
Now a lawmaker nostalgic for Tunisia's pre-revolution past has become one of the country's most popular and most controversial politicians, Francesca Ebel reports. Abir Moussi is tapping memories of a more stable and prosperous time, perhaps through rose-tinted glasses.
Some say that she is a threat to Tunisia's young democracy. Human rights advocates criticize Moussi's refusal to even acknowledge the flagrant repression under Ben Ali, who fled in disgrace to Saudi Arabia and died in 2019. A truth commission found tens of thousands of victims of torture, execution or corruption under him and his predecessor.
Others, however, regard Moussi as the strong leader the North African country needs as it struggles against unemployment and searing poverty that democratically-elected governments have been unable to tackle. 
The Revolution's Injured: Some lost a leg, some gaze out from permanently scarred faces, others live forever bound to a wheelchair. This photo gallery profiles all these men who were damaged in Tunisia's democratic uprising 10 years ago. They are pleading with the government to recognize them as official victims of the revolution. Since December, they have been holding a sit-in outside a government office, demanding recognition, Mosa'ab Elshamy reports.
Please follow and like us: