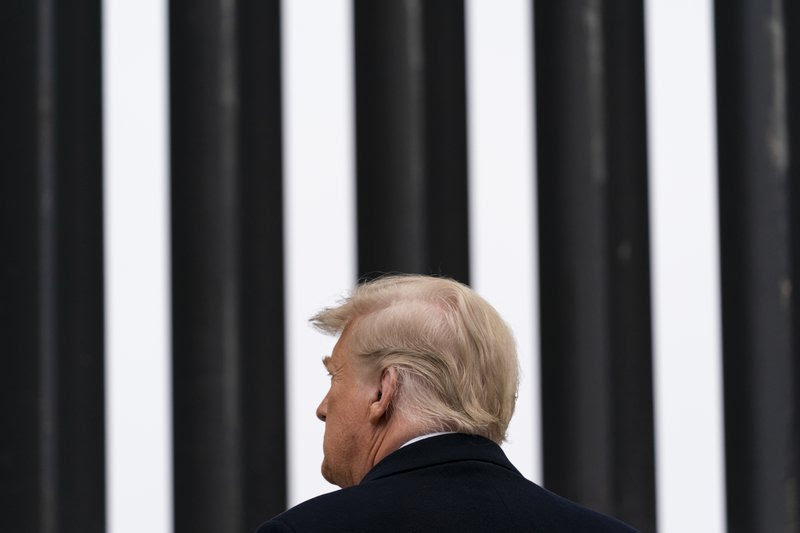 Trump on cusp of historic second impeachment after Capitol siege; Trump's Republican wall eroding; World warily watches America's postelection aftershocks
No American president since the republic was born nearly 245 years ago has ever been impeached twice, but that will almost certainly change later today.
President Donald Trump is on the verge of that unprecedented censure. He faces a single charge, "incitement of insurrection," after telling a mob of loyalists to, as he put it, "fight like hell" against election results, Lisa Mascaro and Mary Clare Jalonick report.
The subsequent attack on the U.S. Capitol turned deadly and delayed finalizing President-elect Joe Biden's election victory.
While the first impeachment of Trump last year saw no Republican votes backing it in the House, a small but significant number of lawmakers this time are breaking with the GOP to join the Democrats.
Trump claimed that the impeachment effort itself is causing "tremendous anger" in the country.
The House tried first to convince Vice President Mike Pence and the Cabinet to intervene, by invoking the 25th Amendment to the Constitution to remove Trump from office.
Hours before the House voted late last night, Pence made it clear he would not do so. The resolution passed anyway, urging him to "declare what is obvious to a horrified Nation: That the President is unable to successfully discharge the duties and powers of his office."
Trump Shows No Remorse: Trump is taking no responsibility for his part in fomenting a violent insurrection, despite his comments encouraging supporters to march on the Capitol and his praise for them while they were still carrying out the assault. Trump said, "People thought that what I said was totally appropriate."  Jill Colvin and Zeke Miller report.
VIDEO: House urges Pence to help oust Trump. 
EXPLAINER: How Trump's 2nd impeachment will unfold.
Republicans: The wall of GOP support that has enabled Trump to weather a seemingly endless series of crises is beginning to erode. Trump's weakened standing among his own party will come into sharper focus when the House is expected to impeach him for inciting a riot at the Capitol. A handful of Republicans have already said they'll join the effort, a number that could grow. The choice facing them isn't just about the immediate fate of Trump but whether the party's leaders are ready to move on, Steve Peoples reports.
America the Unstable: For America's allies and rivals alike, the chaos unfolding during Trump's final days as president is the logical result of four years of global instability brought on by the man who promised to change the way the world viewed the U.S. From the outside, the nation has never looked so vulnerable — or unpredictable. Alliances that had held for generations have frayed badly — from leaving the Paris climate accord and the Iran nuclear deal to quitting the World Health Organization amid a pandemic. By seeking to overturn his loss to Joe Biden, Trump upended the bedrock principle of democratic elections that the U.S. has tried to export around the world, Lori Hinnant reports from Paris.
Social Media Bans: YouTube has suspended Trump's channel for at least a week amid concerns around "ongoing potential for violence," making it the latest platform to limit the president's online activities. The Google-owned platform removed content that was uploaded on Jan. 12 from the Donald J. Trump channel for inciting violence, although it was not immediately clear which videos in question were in violation, Zen Soo reports.
As the world adjusts to a Twitter without @realdonaldtrump, the next big question is: "Now what?" Barbara Ortutay reports.
AP PHOTO/J. SCOTT APPLEWHITE
Fury at the shaken Capitol over the attack, security, virus; FBI says it warned about prospect of violence; 'Safest place in Washington' no more, a reporter's disbelief
This is a "powder keg" moment, one Democrat said. It's a certainly a tinderbox historic one without any doubt.
Last week, a furious mob overran the U.S. Capitol. This week, the fury is from within.
Lawmakers are displaying searing anger over the attack and the catastrophic security failure that placed them in danger. And Democrats are livid over the fact that three of their lawmakers so far have tested positive for COVID-19 after they huddled for safety with Republicans during the assault, Cavin Woodward and Alan Fram report.
Some Republicans in that room over those hours had refused to wear masks.
The rage is being stoked even more so by the passions aroused by Democrats' fresh drive to impeach Trump.
Tempers are flaring in congressional hallways and offices still cleaning up from the trashing by the insurrectionist attackers.
There is Republican to Republican finger-pointing, too. Much of it was aimed at House Minority Leader Kevin McCarthy of California for not showing enough leadership during the crisis.
Law Enforcement: Officials say the FBI warned law enforcement agencies ahead of last week's breach about the potential for extremist-driven violence. That contradicts earlier statements that law enforcement agencies were caught off guard by the assault by Trump supporters. Meanwhile, prosecutors are weighing sedition charges against at least some of the Trump loyalists who stormed the U.S. Capitol. Sedition is punishable by up to 20 years in prison, Michael Balsamo and Eric Tucker report.
EXPLAINER: Who's been charged in the deadly Capitol siege?
A Reporter's Disbelief: An AP reporter covering Congress, Mary Clare Jalonick, says she cannot stop watching the videos that captured the chaos she lived through last week in the Capitol. Those images, including some captured on her on cellphone, have made her realize that the attacks where even worse than they were at the moment they happened. When the rioting began, Jalonick still believed she was in "the safest place in Washington." Then she heard rioters pounding on the House door.
INDONESIAN PRESIDENTIAL PALACE VIA AP/AGUS SUPARTO/
Indonesia starts mass COVID-19 vaccinations with president; As pandemic worsens, most US states resist restrictions; Mexico, India tourism concerns
Indonesian President Joko Widodo has received the first shot of a Chinese-made COVID-19 vaccine after Indonesia approved it for emergency use.
The world's fourth most populated country plans to vaccinate millions of health care workers and other other high-risk groups in the coming months, report Edna Tarigan and Victoria Milko from Jakarta.
Top military, police and medical officials also were vaccinated. And the shot was also given to the secretary of the Indonesian Ulema Council, the clerical body that last week had ruled the vaccine was halal and could be taken by Muslims. Health officials are still working to secure access to more doses.
U.S. Restrictions: Even as the U.S. finds itself in the most lethal phase of the outbreak, governors and local officials in hard-hit parts of the country are showing little willingness to impose any new restrictions on businesses to stop the spread of coronavirus. Both Democratic and Republican leaders are signaling opposition to forced closings and other measures. Some have expressed fear of compounding the economic damage. Some see little patience among their constituents for more restrictions after 10 months. And some seem to be focusing more on vaccine rollouts, Julie Watson and Terry Tang report.
Barely a month into a mass U.S. vaccination campaign, the Trump administration has abruptly shifted gears to speed the delivery of shots to more people. A slow start had triggered widespread concern from states and public health officials. The government will no longer hold back required second doses of vaccines, practically doubling supply. And states should immediately start vaccinating more groups lower down the priority scale.
Mexico Tourism: For more than two weeks over the holidays, it seemed like tourism had returned to Mexico. Quintana Roo state, home to Cancun, the Riviera Maya and Tulum, received more than 960,000 tourists, down only 25% from the previous year. But concern is spreading that the critical winter holiday success could be fleeting, because it came as COVID-19 infections in both Mexico and the U.S. — the main source of foreign tourists — were reaching new heights. If a sharp rise in infections forces a new tourism shutdown the effects would be devastating, Emilio Espejel and Christopher Sherman report.
India Goa: The sun's golden rays fall on Goa's smooth, sandy beaches every evening, magical as ever but strangely quiet and lonely. This holiday season, few visitors are enjoying the celebrated sunsets in the Indian party location. The unspoken fear of the virus is sapping Goa's vibrant beach shacks and noisy bars of their lifeblood. The coastal state usually comes alive in December and January, its tourism-led economy booming with foreign travelers. Locals are mourning the loss of their livelihoods and possibly their way of life to the pandemic's travel restrictions, Vineeta Deepak reports from Goa.
Belgian Students: A late-stage side effect of the pandemic has turned up in Belgium, where a group of teenagers begged to be allowed to go back to school. Fed up with the restrictions keeping them at home most of the time, students in the last two years of a high school in the city of Liege launched an online petition asking for more in-person class time, Samuel Petrequin reports.
A criminal investigation into a Vatican real estate investment has exposed weaknesses in the city state's judicial system and its limited protections for those accused, highlighting the incompatibility of the Holy See's procedures with European norms.
The Vatican has never been a democracy, but the incongruity of a government that is a moral authority on the global stage and yet an absolute monarchy is becoming increasingly evident, Nicole Winfield reports from Vatican City.
One longtime papal adviser quit all his Holy See consulting roles to protest what he considered grave human rights violations in the probe of the 350 million-euro London real estate investment. If nothing is done, he wrote to the Vatican's No. 2 official,  "the Holy See will no longer be able to integrate itself in the system of civilized countries and will return to a universe reserved to totalitarian states."
Vatican prosecutors say the rights of the accused are being protected.
The investigation burst into public awareness on Oct. 1, 2019, when the pope's bodyguards raided the Vatican secretariat of state — the offices of the central government of the Holy See — and the Vatican's financial watchdog authority, known as AIF. Pope Francis personally authorized the raids after a trusted ally alerted Vatican prosecutors of suspicions about the investment.
The investigation has been portrayed as a sign that Francis is cracking down on corruption. And there is evidence of at least financial mismanagement by Vatican officials, since they agreed to pay Italian middlemen tens of millions of euros in fees.
Listen to "Policy and Rights" on Spreaker.


Please follow and like us: